EXTERNAL INTERNAL AUDITS
– HACCP, GFSI – SQF/ BRC/IFS/FSSC 22K
Compliance to customer quality and food safety requirements and independent third-party food safety management certifications is always key to food business operations. The success in maintaining food safety management systems depend on effective compliance.
To ensure independence and avoidance of personal biases and to maximize benefits of internal auditing, its today's contemporary approach to either strengthen internal auditing team or engage independent external auditors for internal audits.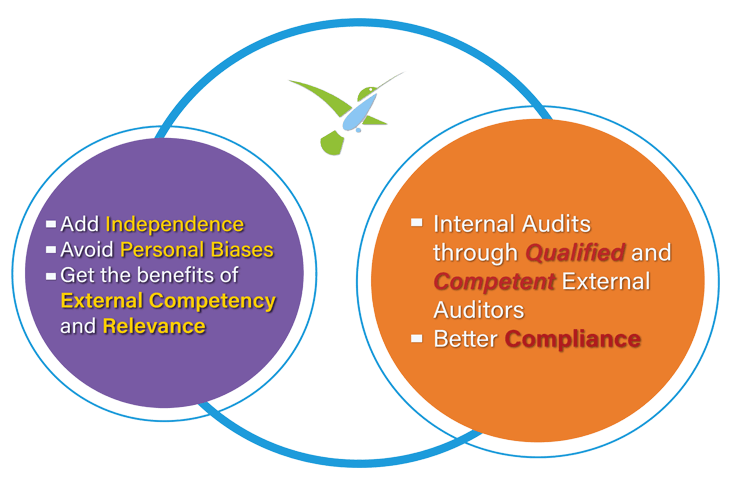 External Internal Audits
Many times, even trained internal auditors being too close to the system may not find all possible issues and deviations which competent and independent external set of eyes could see.
Food Vision is up for this challenge and have relevant resource.  
The idea is to induce goodness and strength through conducting internal audits by qualified and competent external auditors. Through this practice, food companies could find deviations before issues and non-conformances are found in external certification audits.
Lack of training, skill, competency and Independence are among the key issues in ineffective internal audits and poor performance in external certification audits.
For HACCP and GFSI (SQF, BRC, FSSC 22000, IFS, Global Gap, Canada Gap, and others), all our auditors or approved, accredited and active auditors for specific categories under these schemes.
For specific operations, auditors approved with relevant food sectors categories are assigned. Most of our pool of auditors are seasoned with > 500 certification audits. Drop us a line for your specific inquiries for schemes not listed below.

Currently Food Vision is promoting external internal audits options for following management systems.
HACCP certification
GFSI Benchmark Schemes and Standards
SQF,
BRC,
FSSC 22000,
IFS
Global Gap
Canada Gap
And all customer specific supplier quality
assurance audits like
RBI,
Costco,
McDonalds,
Yum,
Trader Joe's,
Chick-Fil-A,
TGI,
Carlson
and numerous others.
External Internal Audits – Bundle Training and Internal Audits
These audits include full independent audits and/ or training audits for enhancing internal capabilities and training internal audit teams. All GFSI Benchmark Scheme – Food Safety and Packaging external internal audits are conducted by trained and scheme approved and certified auditor holding current approval and applicable food sector categories required for specific operations. Contact us for your specific inquires for schemes not listed below.
How to add effectiveness to your Internal Auditing Process?
Enhance internal Audit Capabilities  – Get competence based professional training on "Principle of Internal Auditing".
Note: This Training qualifies HACCP, GFSI Schemes Internal auditing training requirements.